Product descriptions are critical to the success of any online retailer. An excellent product description can help you stand out from the competition and increase your sales. In addition to showcasing your goods, it also lets you attract and retain more clients. 
Read on to see how you can improve the product descriptions for your e-commerce business.
How to Create an Outstanding Website Profile
As a business owner, you have a website used to promote your business. You need to make sure that your website profiles are the best. The perfect website profile will help your business in several ways. First, you can use it to establish credibility. Potential customers will see what you do and how you do it. A strong profile will also help turn browsers into buyers. Potential customers will learn more about your business, products, and service.
The most important thing to remember is that you should be available to answer your customers' questions. You must respond to their inquiries promptly. Not only will your customers appreciate your responsiveness, but it will also help you build trust with your website visitors and prospects.
Choosing the Perfect Tagline
Your tagline is the opening line in your product description. It should be short and catchy, ideally only a couple of words. Choose a short phrase that describes your business, product, or service. Your tagline must attract and motivate prospective clients.
Write the Product Description
Write product descriptions that are concise and accurate. Do not fill your product descriptions with fluff and marketing hype. You should focus your product descriptions on your customer needs, not on your products. Avoid making the mistake of being too wordy; search engines like Google have limitations on the number of words you can use.
Be Clear and Concise
Include a short and descriptive title, description, and photos of the product with your product description. It will help users navigate the e-commerce website. Long form sales pages can be a great way to convince potential customers to buy your product, but if your customers are browsing a product catalog, keep your descriptions short and to the point. Your users will quickly lose interest if they are having to read 1000 word descriptions for every product in your catalog.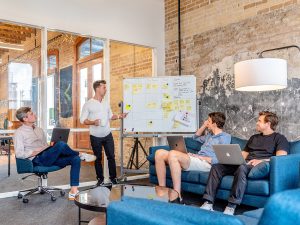 Test and Retest
You must test and retest the effectiveness of each product description. Utilizing a team is a good start, but reaching out to customers and potential customers to understand and empathize with their needs can be even more effective. In addition to traditional marketing methods, you can utilize A/B testing to test multiple versions of your product description to determine if minor changes make an impact on your conversion rates.
Only Use Professional Photos
Nothing will detract from user trust faster than photos that look like they were quickly snapped from a cell phone. Professional photos can help attract customers to your product page. Use a good mix of product images and and lifestyle photos. These are photos that show your product in use or in real world settings. This can help your user visualize how they would use your product.
Make sure that your product photos are clearly and accurately labeled. Use truly descriptive alt tags on all of your images to ensure that your site is accessible to all. Many sites stuff their alt tags with SEO terms, but this makes it completely unusable for those with visual impairments, and in the end will harm your sites' ranking. 
Ask for Feedback
You must use a simple way to get feedback on your product descriptions. Ask your customers to use a quick and straightforward response survey after they have purchased your product. If you find that you are not getting the responses you need, you can offer an incentive to complete the survey. If surveys aren't providing the information you need, heat-mapping is a great way to get user feedback while they are on the site. Heat mapping allows you to track where users are looking and interaction on your site. This can offer great insight into areas that can be improved in your content.
Don't Forget the Call to Action
A call to action is a marketing term for a statement used to encourage activity by the reader. For example, a call to action in a product description may be: "buy now" or "find details here." You must include a call to action with your product description.
If your goal is to sell your products online, you should take the time to develop compelling product descriptions. Poor product descriptions can lead to a poor online store experience for shoppers. Product descriptions can not only help you sell your products, but they can also help you increase your brand awareness. B2B businesses must also keep in mind that product descriptions and other information provided on their websites must be accurate.
Know Your Competitors
It is essential to know your competitors' strengths and weaknesses. You can learn a lot about your competitors by reading their website profiles. Once you learn about your competitors, it will be easier to develop a compelling website profile for your business.
Conclusion
Developing an excellent website profile is an essential part of the process of selling your products online. Your website profile must be professional, informative, and attractive. The goal of your website profile should be to help you sell your products online. You must follow these guidelines when creating your website profile.
From site hosting to web design, LJordan Designs is your one-stop shop for digital marketing services. Work with us if you're looking for an SEO service in the United States that will help maximize your online visibility.